MetroAir Q3 Donations Statement
After several web hosting issues during 2006, the decision was made to switch all of MetroAir's online material to our own dedicated server. The switch was made during the fall of 2007 giving uninterrupted access to our website and forum and allowing the introduction of our own ACARS system.
The cost of this switch was substantial. MetroAir's annual hosting bill multiplied by a factor of almost 10. Our average annual bill currently stands at around $750 USD.
In June 2008, the executive management team decided to begin accepting donations to cover the real financial costs that MetroAir incurs. All donations are used to offset the costs that were previously covered by staff members.
MetroAir's fiscal year runs April to March and below is a breakdown of all donations made for Q3 October 2008 – December 2008.
As of December 31st, 4 MetroAir pilots made donations to our funds during Q3.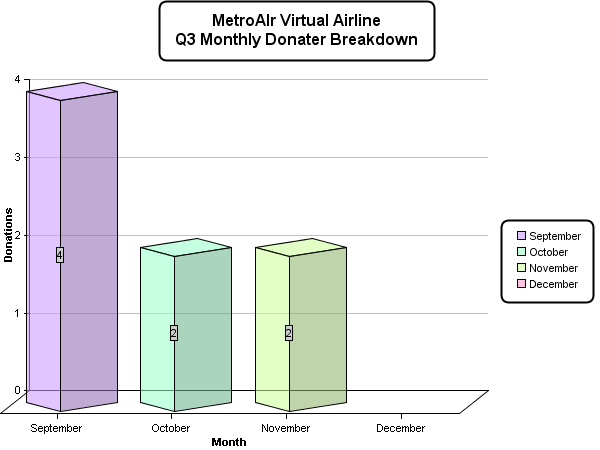 The chart below shows a breakdown of each donation level.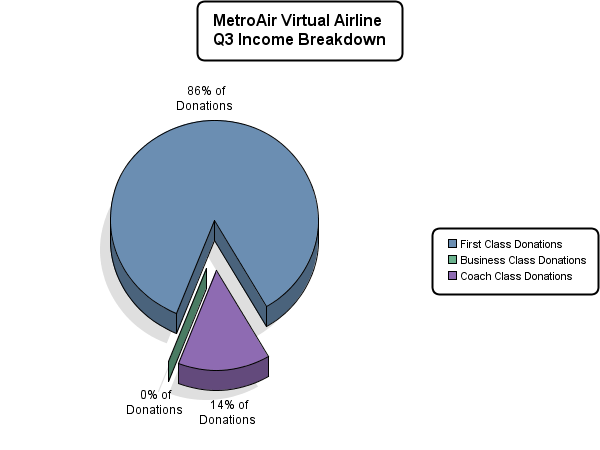 During this same period, expenses for the airline came to a total of $184.05 Below is a breakdown of our costs.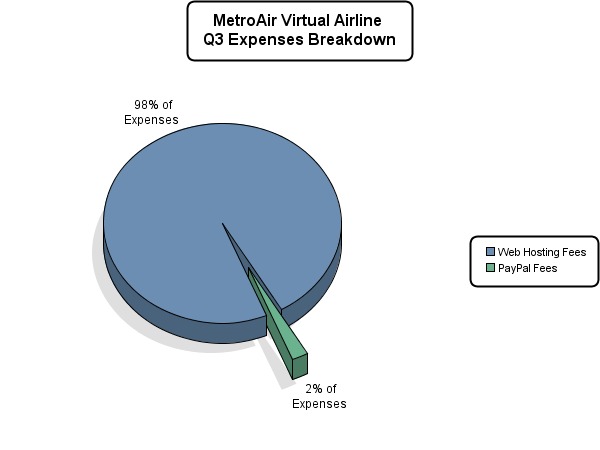 ================================================================

Chief Financial Officer Statement:** "Quarter 3 has continued to deliver favorable results for our airline as it was always going to be extremely difficult to match the fantastic levels of Quarter 2 and the initial excitement and interest that introducing the donation concept generated. However, we have continued to see MetroAir pilots steadily contribute to our cause."

"October and November both brought in two donations each which I believe is an excellent target to set as we go forward into 2009. If we could maintain this level of income from our community of existing and new pilots I can honestly see us hitting all our expenditure targets and provide us with the extra resources to work on new concepts and continue to develop the MetroAir brand."

"December's results whilst looking bad were in line with my expectations. The combination of the global economic recession coupled with the holiday season would most likely impact the amount of disposable income available to most pilots as priorities lay elsewhere at this time of year"

"Looking at Quarter 3 as a whole, we fell short of securing 100% funding for this month's expenses through donations, however we did generate a surplus last quarter and this will be used to fill the deficit in the account. Donations on a whole continue to be in favor of our premium package with 86% of this month's income being provided through First Class Donations giving our supporters the highest level of benefits"

"May I once again take this oppertunity on behalf of the MetroAir management team to thank all our donators for contributing to our airline. Your support is very much appreciated. Look out on the Blog for a special article on the benefits that supporting MetroAir can bring to those of you who may not be fully up to speed on our concept.

Until then, Thank You."

Del Steel